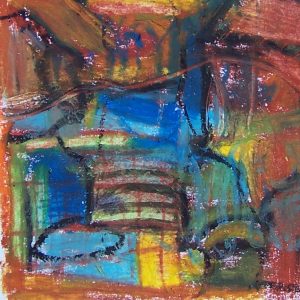 After 'printing' with oilstik I worked back into the print with oil pastels and moved the colour around.  Then I scraped back in places to get back the lights and added some brights for contrast.  Once again line and texture are an important part of the overall effect.
This method adds some new tricks to my tool bag and could hold promise for work in the future.   Have to graduate to something larger in due course.
At Level 2 now in the Lockdown scenario – 7 weeks indoors more or less. The country begins to move again.